Blog
Spectacular Freeride show at the Kitzsteinhorn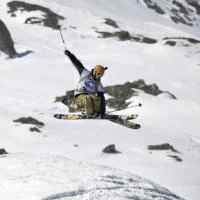 Blue sky, spring snow and highest riding level made the X OVER RIDE at the Kitzsteinhorn to a great show. On March 22nd the 3-star- Freeride World Qualifier proved once more, why this event is so popular among the best freeriders on the Freeride World Qualifier Tour.
For the 11th time the X OVER RIDE was held in the region of Zell am See-Kaprun and impressed with extremely high riding level and riders out of 14 nations showing their skills on the face called 'Lakarschneid' at the Kitzsteinhorn. The reigning Austrian Freeride Master Flo Orley remains the dominator in the snowboard men category. Orley wins the X OVER RIDE for the second time in a row: 'I'm super happy. I could show a liberate run, as I am already qualified for the Freeride World Tour next year. It also looks good for me regarding the AUSTRIAN FREERIDE SERIES ranking. Just perfect', explains the Tyrolean.
In the category ski men the three-time winner of the Austrian Freeride Series, Stefan Jöchl is not able to continue his lucky strike. He starts with bib number one and had to choose a rather save line to defend his leading position in the series. The German freerskier Max Kroneck takes the victory at the Kitzsteinhorn, 'I hit a big cliff on top, the one where, everybody said it was not skiable, but it was. In the down section, I showed a double and another small cliff. The riding conditions were actually really good.'
Best Austrian in Zell am See-Kaprun is Martin Rofner, who takes the second place. Since his season did not go like it was planned, the run at the Kitzsteinhorn is pretty important for him, 'I showed a Backflip and could go for a speedy run, this is what I can do best. I'm satisfied', Rofner says.
Extremely strong are also the ladies at the Kitzsteinhorn. The norwegian freeskier Anja Gardli takes the victory. Angelika Kaufman of Austria is ranked second with a pretty strong run and collects important points for the Austrian Freeride Series ranking. For the local ski lady Sabine Schipflinger her home event does not work out as planned. She is looking forward to the next AFS qualifier at Obergurgl-Hochgurgl, to collect missing points in the Austrian Freeride Series.
The French rider Annouk Mouthon wins the snowboard women ranking. Second goes Manuela Mandl- Liz Kristoferitsch takes the third place.
Besides the judges, also the organizing team was impressed by the performance of the rider, who took part in the 11
th
X OVER RIDE at the Kitzsteinhorn. Chris Geissler, the head of organization resumes, 'It was a great show, the high riding level and good weather conditions made the X OVER Ride 2014 a spectaclar Event. Now we are even more enthusiastic to start working for the X OVER RIDE 2015.'
Foto credit:
Max Kroneck (Winner Ski Man): credit: X OVER RIDE Maria Knoll
Link:
Results X OVER RIDE 14
X OVER RIDE 14 | Highlight Clip 2 min:
Siehe auch:
»
Neuere Themen:
»
Ältere Themen:
»

Terrific freeride finals at the X OVER RIDE
Terrific freeride finals at the X OVER RIDE
»

Terrific freeride finals at the X OVER RIDE
Terrific freeride finals at the X OVER RIDE
Siehe auch:
»
Neuere Themen:
»
Ältere Themen:
»

X OVER RIDE makes the Kitzsteinhorn the place to be
XOR15 FWQ ***
»

X OVER RIDE makes the Kitzsteinhorn the place to be
XOR15 FWQ ***
Siehe auch:
»
Neuere Themen:
»
Ältere Themen:
»

The countdown is on for the X OVER RIDE 14 | FWQ*** at the Kitzsteinhorn
XOR14 FWQ ***
»

The countdown is on for the X OVER RIDE 14 | FWQ*** at the Kitzsteinhorn
XOR14 FWQ ***
Siehe auch:
»
Neuere Themen:
»
Ältere Themen:
»

X OVER RIDE 13 | Freeride finals at the Kitzsteinhorn
From 22nd to 23rd March the big finals of the Austrian freeride season, the X OVER RIDE Freeride World Qualifier * and *** took place at Kitzsteinhorn, Zell am See - Kaprun. On this weekend, for the very first time, the Austrian Freeride Masters were crow
»

X OVER RIDE 13 | Freeride finals at the Kitzsteinhorn
From 22nd to 23rd March the big finals of the Austrian freeride season, the X OVER RIDE Freeride World Qualifier * and *** took place at Kitzsteinhorn, Zell am See - Kaprun. On this weekend, for the very first time, the Austrian Freeride Masters were crow
---