Blog
The countdown is on for the X OVER RIDE 14 | FWQ*** at the Kitzsteinhorn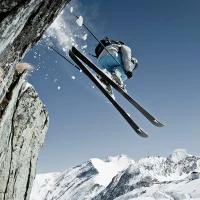 A week before the season finales of the AUSTRIAN FREERIDE SERIES the X OVER RIDE Kitzsteinhorn on March 22
nd
, awards again a decent amount of points in the battle for the Austrian freeride champion. Due to this, the 3-Star-Qualifier in Zell am See-Kaprun is highlighted in the calendar of those, who fight for the title. The altitude of the Kitzsteinhorn makes the end of March the perfect date for a contest on optimum conditions.
Especially the Austrian pro-riders like to compete in the FWQ*** X OVER RIDE. After all, the big names of the scene are coming back to the Kitzsteinhorn over and over again. They all know the face very well and this makes the freeride-action even more attractive.
This year again, the start will be on a rather rocky steep section on the face called 'Lakarschneid', on approximately 2.560 meters of altitude. The steep slope merges into a wider field in which the riders can show fluid and speedy runs. The last section of the route is selective and the final chance for all riders to convince the judges on the way to the finish at Langwiedboden at about 1970 meters of altitude.
Please find the program here:
Time Table
To stay informed, plese like us on
www.facebook.com/xover
Siehe auch:
»
Neuere Themen:
»
Ältere Themen:
»

X OVER RIDE makes the Kitzsteinhorn the place to be
XOR15 FWQ ***
»

X OVER RIDE makes the Kitzsteinhorn the place to be
XOR15 FWQ ***
Siehe auch:
»
Neuere Themen:
»
Ältere Themen:
»

Spectacular Freeride show at the Kitzsteinhorn
Spectacular Freeride show at the Kitzsteinhorn
»

Spectacular Freeride show at the Kitzsteinhorn
Spectacular Freeride show at the Kitzsteinhorn
Siehe auch:
»
Neuere Themen:
»
Ältere Themen:
»

X OVER RIDE 13 | Freeride finals at the Kitzsteinhorn
From 22nd to 23rd March the big finals of the Austrian freeride season, the X OVER RIDE Freeride World Qualifier * and *** took place at Kitzsteinhorn, Zell am See - Kaprun. On this weekend, for the very first time, the Austrian Freeride Masters were crow
»

X OVER RIDE 13 | Freeride finals at the Kitzsteinhorn
From 22nd to 23rd March the big finals of the Austrian freeride season, the X OVER RIDE Freeride World Qualifier * and *** took place at Kitzsteinhorn, Zell am See - Kaprun. On this weekend, for the very first time, the Austrian Freeride Masters were crow
Siehe auch:
»
Neuere Themen:
»
Ältere Themen:
»

Registration for all FWQ Events will be open on 4th of December 2012
Registration FWQ Events starts 4.12.2012
»

Registration for all FWQ Events will be open on 4th of December 2012
Registration FWQ Events starts 4.12.2012
---