Blog
X OVER RIDE 12 | A great success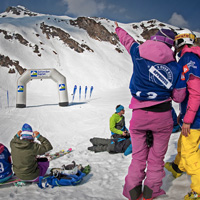 The 75 participating freeriders from 12 nations put on an exciting show in for the spectators. The start took place at Lackerschneid at approx. 2,560 metres above sea level, on a steep slope with several rocks and jumps, where the freeriders showed off back flips and other tricks. The steep hill then merged into a wide field, where riders showed smooth but fast swings. The last section saw the slope become steep and selective again – and many participants convinced with tricks as well as high and far rock jumps again on the way to the finish line at Langwiedboden, 1,970 metres above sea level. For the first time the X OVER RIDE was held as a 3-Star-Qualifier of the FWT and the Kitzsteinhorn and the region Zell am See-Kaprun offered perfect conditions.
International Top Three Studded with Austrians
In men's skiing, the favourite Mathieu Bijasson (FRA) was able to come in first, thereby earning a definite qualification for the next season of the Freeride World Tour. The French were strong, and Leo Slémett, another Frenchman, took second place. Martin Rofner from Austria was able to win third place with a run that was rich in variety. All in all, the Austrians did extremely well among the international starting field. In men's snowboarding, Niklas Hollsten (FIN) convinced the judges with a smooth run and excellent high jumps. In second place came Alexander Hoffman from Austria, who is now on the way to qualifying for the FWT, then followed by Raphael Bullet from Switzerland. Johannes Schwaiger was another Austrian who exhibited a great performance with a strong run – he only qualified the week before by winning a wild card through the qualifier. In women's skiing, the strongest run was performed by Nadine Wallner (AUT), followed by Lotten Rapp (SWE) and Berber Semmelink from Holland who finished second and third respectively. Australian Amber Schuecker prevailed in the women's snowboarding discipline, followed Mikaela Hollsten (FIN) and Anouck Mouthon (FRA). This means that the Hollsten siblings (Niklas and Mikaela) both scored great points at the X OVER RIDE - Niklas won the men's snowboarding discipline, while Mikaela took second place in women's snowboarding.


Siehe auch:
Siehe auch:
»
Neuere Themen:
»
Ältere Themen:
»
Siehe auch:
»
Neuere Themen:
»
Ältere Themen:
»
Siehe auch:
»
Neuere Themen:
»
Ältere Themen:
»

The countdown is on for the X OVER RIDE 14 | FWQ*** at the Kitzsteinhorn
XOR14 FWQ ***
»

The countdown is on for the X OVER RIDE 14 | FWQ*** at the Kitzsteinhorn
XOR14 FWQ ***
Siehe auch:
»
Neuere Themen:
»
Ältere Themen:
»

X OVER RIDE 13 | Freeride finals at the Kitzsteinhorn
From 22nd to 23rd March the big finals of the Austrian freeride season, the X OVER RIDE Freeride World Qualifier * and *** took place at Kitzsteinhorn, Zell am See - Kaprun. On this weekend, for the very first time, the Austrian Freeride Masters were crow
»

X OVER RIDE 13 | Freeride finals at the Kitzsteinhorn
From 22nd to 23rd March the big finals of the Austrian freeride season, the X OVER RIDE Freeride World Qualifier * and *** took place at Kitzsteinhorn, Zell am See - Kaprun. On this weekend, for the very first time, the Austrian Freeride Masters were crow
Siehe auch:
»
Neuere Themen:
»
Ältere Themen:
»

Registration for all FWQ Events will be open on 4th of December 2012
Registration FWQ Events starts 4.12.2012
»

Registration for all FWQ Events will be open on 4th of December 2012
Registration FWQ Events starts 4.12.2012
---