Blog
Kitzsteinhorn hosts FWQ *** Event for the second time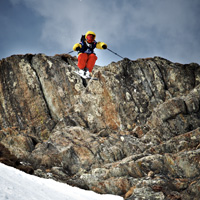 For the second time Kitzsteinhorn, Kaprun hosts a Freeride World Qualifier ***
At the Big Mountain contests from 21. – 24. März 2013, top skiers and snowboarders are competing for the prize money and as well important points for the FWQ Ranking. This year the Open will be replaced by a FWQ * contest, so all riders are eligible for the precious FWQ points. The top ranked riders again get a wild card for the FWQ *** contest taking place the next day!
Registration for the
X OVER RIDE FWQ * & FWQ ***
starts around January at the Freeride World Tour site.
www.freerideworldtour.org
Siehe auch:
Siehe auch:
»
Neuere Themen:
»
Ältere Themen:
»

Kitzsteinhorn hosts FWQ *** Event for the first time
Kitzsteinhorn hosts FWQ *** Event for the first time
»

Kitzsteinhorn hosts FWQ *** Event for the first time
Kitzsteinhorn hosts FWQ *** Event for the first time
Siehe auch:
»
Neuere Themen:
»
Ältere Themen:
»

The countdown is on for the X OVER RIDE 14 | FWQ*** at the Kitzsteinhorn
XOR14 FWQ ***
»

The countdown is on for the X OVER RIDE 14 | FWQ*** at the Kitzsteinhorn
XOR14 FWQ ***
Siehe auch:
»
Neuere Themen:
»
Ältere Themen:
»

X OVER RIDE 13 | Freeride finals at the Kitzsteinhorn
From 22nd to 23rd March the big finals of the Austrian freeride season, the X OVER RIDE Freeride World Qualifier * and *** took place at Kitzsteinhorn, Zell am See - Kaprun. On this weekend, for the very first time, the Austrian Freeride Masters were crow
»

X OVER RIDE 13 | Freeride finals at the Kitzsteinhorn
From 22nd to 23rd March the big finals of the Austrian freeride season, the X OVER RIDE Freeride World Qualifier * and *** took place at Kitzsteinhorn, Zell am See - Kaprun. On this weekend, for the very first time, the Austrian Freeride Masters were crow
Siehe auch:
»
Neuere Themen:
»
Ältere Themen:
»

Registration for all FWQ Events will be open on 4th of December 2012
Registration FWQ Events starts 4.12.2012
»

Registration for all FWQ Events will be open on 4th of December 2012
Registration FWQ Events starts 4.12.2012
Siehe auch:
»
Neuere Themen:
»
Ältere Themen:
»

X OVER RIDE 12 | A great success
Eight years after the first X OVER RIDE the contest returned to its roots - Freeriding
»

X OVER RIDE 12 | A great success
Eight years after the first X OVER RIDE the contest returned to its roots - Freeriding
---